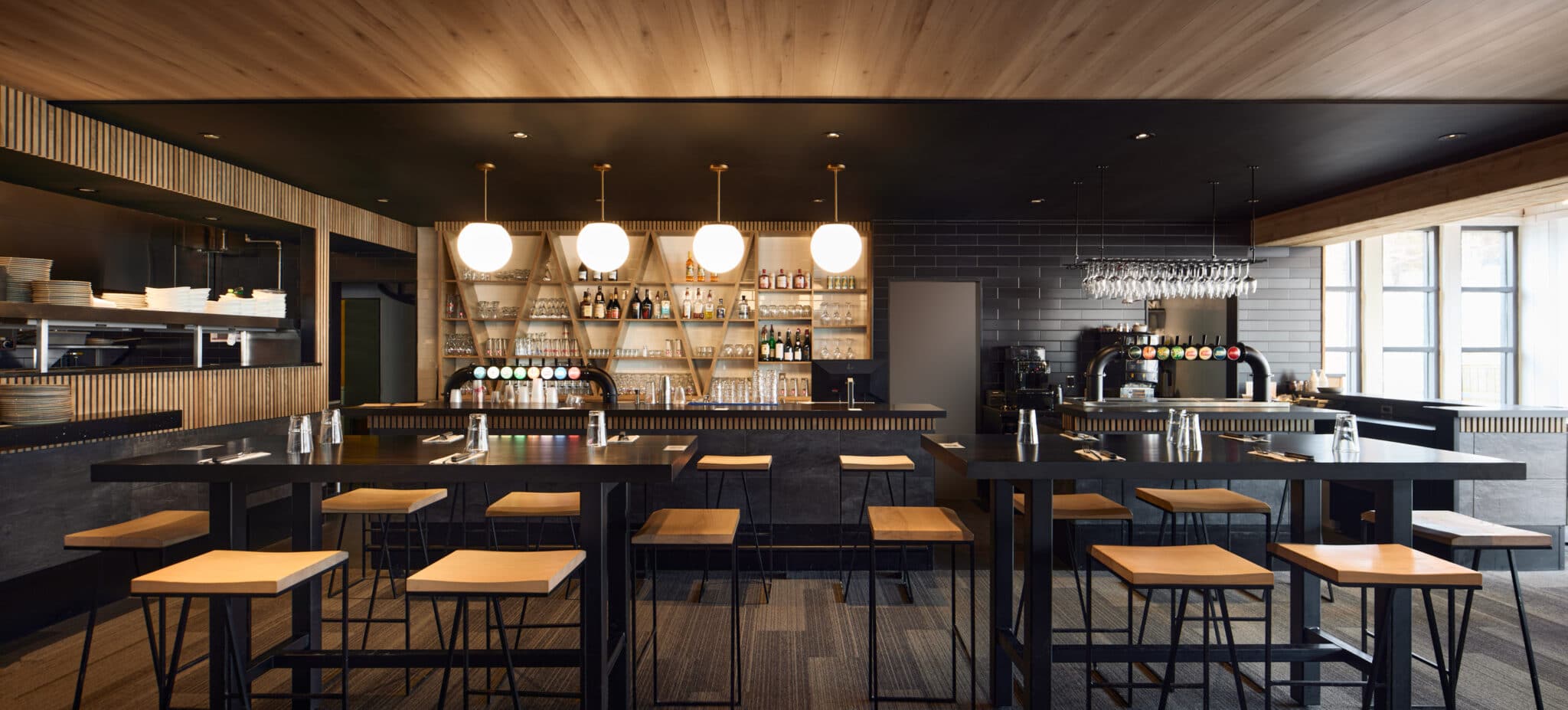 Bromont, montagne d'expériences
Restaurant-bar La Débarque at Bromont, montagne d'expériences
The mandate
Needs analysis
Space studies and planning
Conceptual research and development
Selection of furnishings and materials
Preparation of construction and layout plans
Site supervision
Photo credit : Phil Bernard
Bromont, montagne d'expériences is the largest lit ski area in America. Its cabins are refuges made to refuel, rest and gather and they enhance and elevate the client experience all year round.
As part of the renovation project for the main chalet, located at the foot of the largest slope on the mountain, VAD was entrusted the redesign of the restaurant-bar La Débarque, as well as the clothing store.
A favorite for après-skis and events, La Débarque restaurant doubles as a venue for cultural activities organized by the Mountain.
Of Scandinavian inspiration, the concept was developed according to specific sustainability and durability goals and with the objective of being easy to maintain. The design and materiality were inspired by the Chalet du Sommet, built a few years ago. This creates a more united image between the different chalets on the Mountain.
La micro-boutique, située dans le même chalet a également été rénovée pour optimiser l'expérience de la clientèle. VAD a bonifié le plan d'aménagement et proposé un nouveau système de présentation de marchandise.
Grâce à une planification rigoureuse et une coordination efficace auprès de l'entrepreneur en construction interne de Bromont, montagne d'expériences, l'ensemble des travaux a pu être réalisé sans impacter la saison de ski.
The small boutique, located in the same chalet, has also been renovated to optimize the customer experience. VAD improved the layout plan and proposed a new merchandise presentation system.
Thanks to rigorous planning and effective coordination with Bromont's in-house contractor, the project was carried out and completed without impacting the ski season.