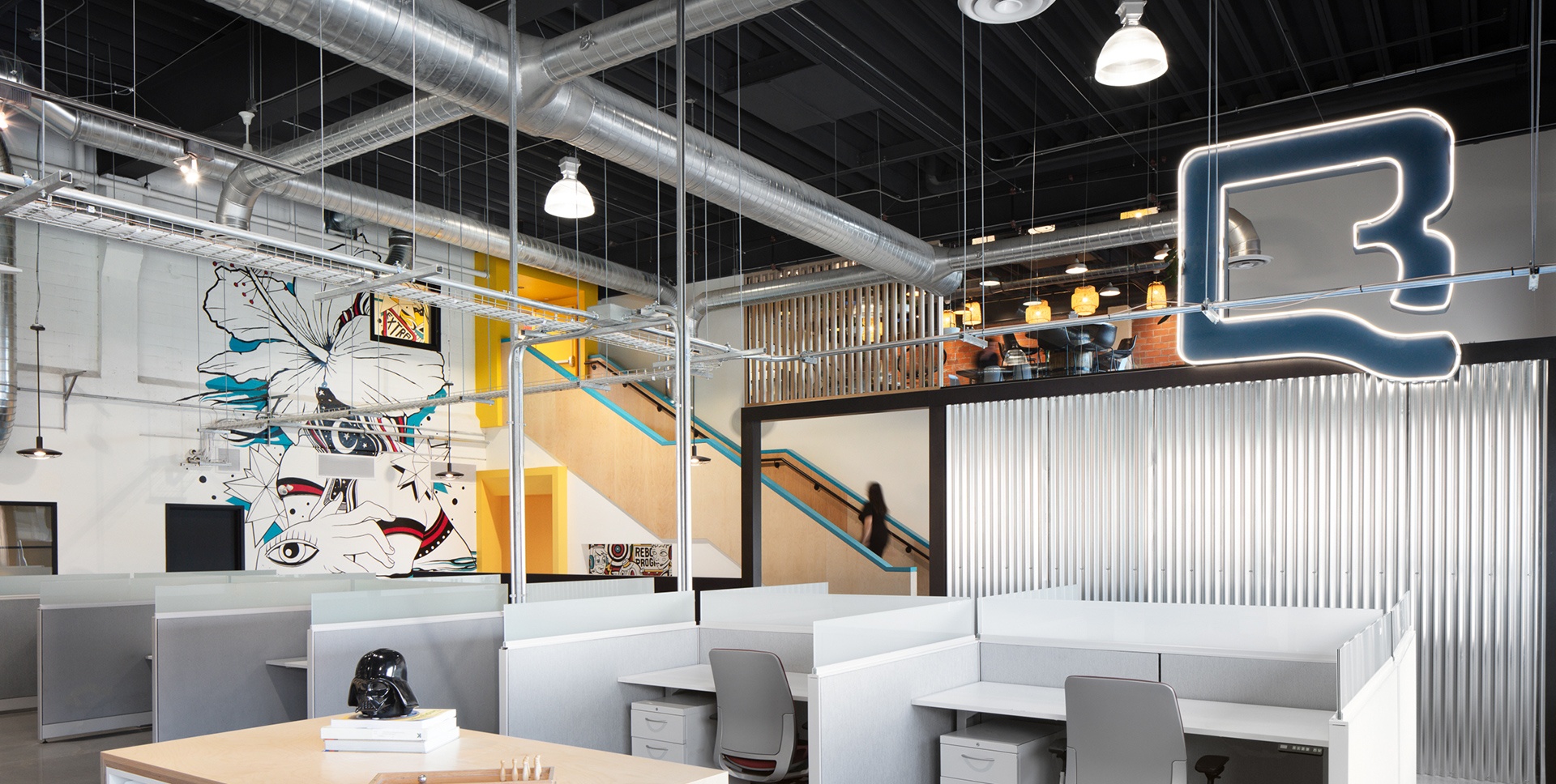 The mandate
Needs analysisÉtudes de prélocation lors de la recherche d'un nouvel emplacement
Preleasing studies
Conceptual research and development
Conceptual research and development
Interior design
Photo credit : Maxime Brouillet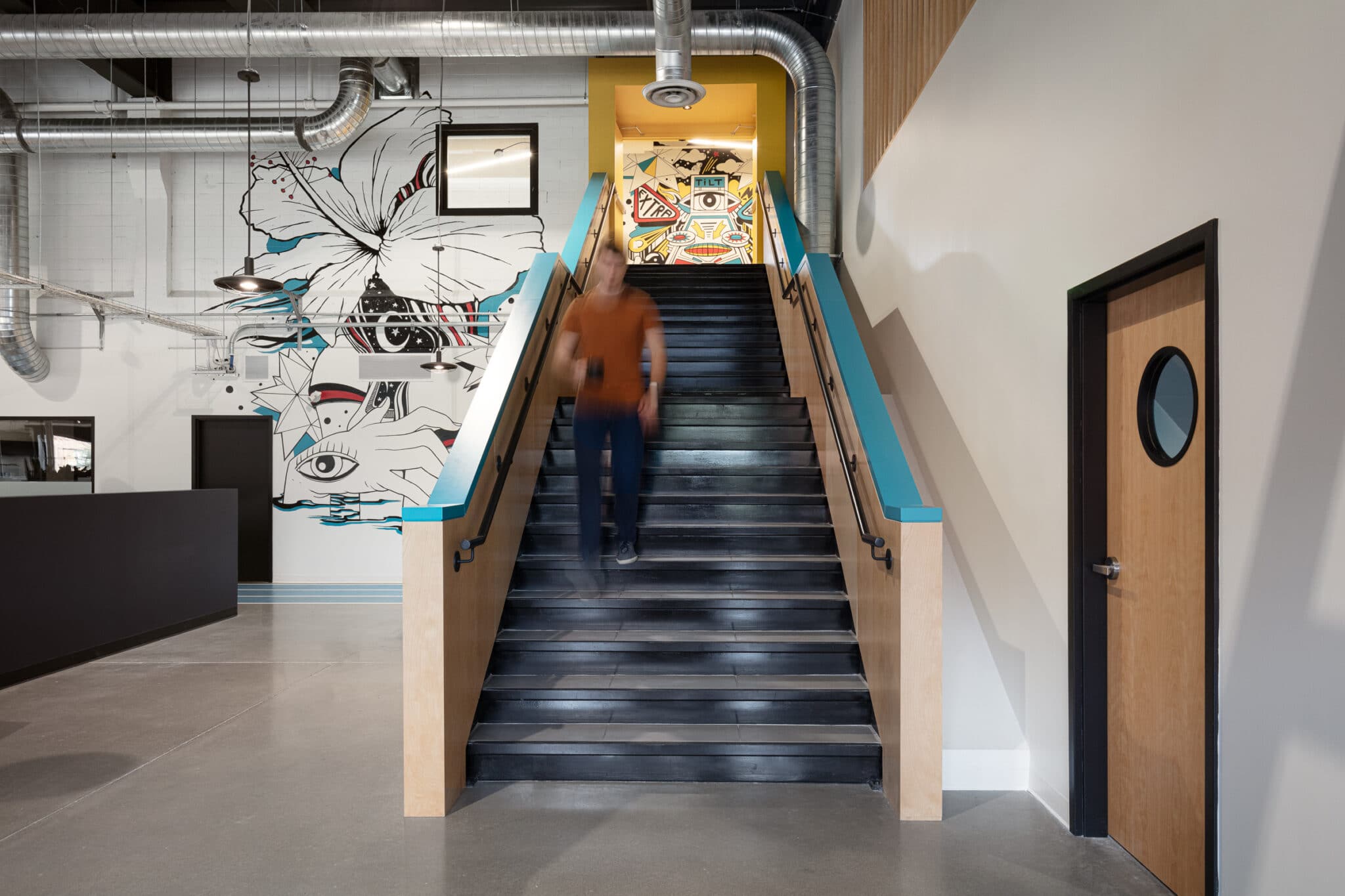 Quadbridge, jeune entreprise de service TI native du quartier Saint-Henri, devait se relocaliser pour répondre à une croissance rapide.
Recherchant un nouveau local où y installer son équipe dynamique grandissante, dans un périmètre rapproché de son quartier natif, son choix s'est arrêté sur un espace industriel du Complexe Dompark, en bordure du Canal Lachine.
Accompagné du gestionnaire de projet et entrepreneur en construction A+, VAD a été appelé à évaluer le potentiel aménageable de l'espace et proposer des solutions créatives pour optimiser le quotidien des usagers par l'aménagement.
Le local, qui servait d'ancienne manufacture au Dominion Textile Company, a dû être adapté de manière à accueillir des espaces bureaux dynamiques et un équipe ambitieuse de vendeurs et de spécialistes TI. On y a notamment ajouté une rangée de fenêtres au niveau du rez-de-chaussé pour davantage de luminosité et pour offrir des vues vers l'extérieur aux usagers dans l'aire ouverte.
Quadbridge, a leading IT service startup native to the Saint-Henri borough, needed to relocate to accommodate rapid growth.
Looking for a new space to settle its dynamic growing team, nearby the original offices, their choice landed on an industrial warehouse in the historic Dompark Complex, boarding the Lachine Canal.
Accompanied by project manager and contractor A +, VAD was called upon to assess the layout potential of the space and to imagine creative solutions that could optimize the employee experience at Quadbridge through office design.
The warehouse needed to be transformed into modern and creative workspaces suited for a young and ambitious sales team and IT specialists.
CULTURE, COMMUNITY, IMPACT
Quadbridge's strong cultural values were the starting point for the concept of the new space, along with prioritizing employee well-being. The management's expectations were clear: to offer generous living and leisure areas integrating facilities such as an outdoor terrace, an inviting cafeteria, a game room, a complete gym, as well as plenty of lounging spaces.
In the main open space, an electrification system on rails supplies the workstations and enhances the industrial feel, intentionally preserved by the design team. A sheet metal structure creates a division in the vast two-storey volume, making room for a nestled lounge, and an opportunity to install an oversized Quadbridge logo that beams out onto the offices.
A running track in the brand's iconic color was also painted on the floor surrounding the main work area. Symbolizing a ladder, the team will be able to set quantifiable goals and mark them on the track with floor stickers. This is just one of Quadbridge's many creative initiatives that echoes its goal-oriented culture and passion throughout the new headquarters.